A propos de la souche :
GOC Pineapple Express Vape Refill are BHO instead of C02 extraction so they are a stronger product. Instead of propylene glycol and vegetable glycerin, denatured terpenes are used for flavors to make a really tasty product.
All of the GOC Distillate Pineapple Express vape refills are discrete, convenient and pack a good punch of Pure THC Distillate. GOC distillate pens are mixed with terpenes (all natural flavor essence) and are available in a variety of flavors.
Chaque stylo à vape vous fournit plus de 100 tirages de THC aromatisé ou naturel et la plupart des utilisateurs ont besoin de 1 à 3 tirages par dose. Chaque stylo contient 1mL de distillat de THC pur.
La saveur est étonnante et la commodité est étonnante... sans oublier que la force est étonnante.
Pineapple Express Vape Refill Specs and Effects:
This buzz is powerful in its own right and will have you floating through the air in no time. This mild body numb is accompanied by a heady, happy high that leaves users feeling creative and talkative. As your body relaxes into the high your mind will start to focus and feel productive
You won't need a ton of puffs before you've felt too many so start off with 1-3 puffs. You will begin to start drifting off into a very relaxed state of mind followed by a very calm feeling which makes it perfect for everyday use.
Qu'est-ce que le distillat pur de THC ?
En raison du long processus d'extraction et de raffinage, ainsi que des machines avancées nécessaires pour produire des distillats de THC, il n'est pas surprenant qu'ils soient un peu plus chers que les stylos Phant pour ceux d'entre vous qui les aiment. Le niveau extrême de pureté et de puissance ne peut être comparé à d'autres concentrés comme le BHO, c'est pourquoi nous pensons que tous les connaisseurs de concentrés devraient les essayer et nous faire savoir ce que vous en pensez.
Pair with the South Coast Variable Battery for best results.
Effets :
Happy, Relaxed, Motivated
Médical :
Stress, Depression, Lack of Focus
À propos du vendeur :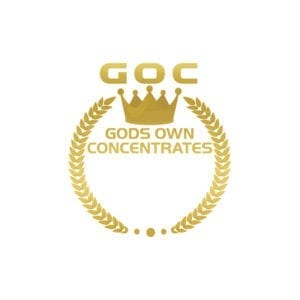 EXTRAITS DE MAUVAISES HERBES INFUSÉS AUX TERPÈNES
Les concentrés Gods Own sont produits par une combinaison de l'extraction BHO et de la distillation fractionnée.
Ils sont convaincus que la combinaison de ces deux méthodes d'extraction est le seul véritable moyen de maintenir les caractéristiques individuelles spécifiques des souches de base utilisées pour fabriquer le concentré, en conservant toutes les notes de goût originales, les profils terpéniques et les highs personnalisés que chaque souche procure. Tout en garantissant un médicament très puissant et efficace.
Le processus des CONCENTRÉS DE DIEU
GOC n'utilise pas d'édulcorants à base de sucre, de sirops ou d'arômes artificiels dans ses produits de shatter infusés aux terpènes.
Gods Own Concentrates n'utilise que des terpènes de souche pour améliorer les profils de terpènes et les notes aromatiques existants.
19 réponses à "Pineapple Express Vape Refill"
Plus d'informations de GODS OWN CONCENTRATES