Vente !
A propos de la souche :
GOC Midnite Kush Diamonds are some of the most relaxing extracts available on planet Earth. THC is 92%. If you are dabber, these diamonds are the next level on potency and flavour.
Midnite Kush Diamonds are the result of taking de-waxed and filtered BHO and subjecting it to incredibly low temperatures and varying pressure changes to create an environment conducive to the creation and growth of crystals within the BHO base.
Ce processus n'a rien de rapide et plus les cristaux sont laissés longtemps dans cet environnement, plus ils deviennent stables et gros.
The reason Diamonds are more expensive than shatter is the amount of time and patience required to complete a single productions run. This can take weeks and in some cases months to complete as well as the curing period after full crystallization has been achieved. The finished product is definitely worth the wait though.
STRAIN INFORMATION – Midnite Kush
Midnight Kush is an evenly balanced hybrid strain (50% indica/50% sativa) created through crossing the classic Blueberry X Hash Plant strains.
Perfect for a lazy night when you want to kick back, Midnight Kush is one of the best ways to unwind after a long and stressful day when your mind just won't stop racing.
The Midnight Kush high starts with a lifted effect that sneaks up on the back of your mind before suddenly taking hold and launching you into a state of pure euphoric bliss. A touch of focus will come next, giving you the concentration that you need to tackle any mental task at hand. However, this effect will quickly fade into a stoney head high, so be sure to get on that to-do list before you can't focus! A relaxing body high accompanies this heady effect, anchoring you to the world below without causing sedation.
Effects: Happy, Relaxed
Medical: Stress, Pain, Anxiety
THC: 92%
CBD: 1%
Pourcentages de THC et de CBD :
All of the parent cannabis used to create GOC diamonds tests at an average of 25.5-26% THC and 0.386% CBD.
GOC Midnite Kush Diamonds THC %'s comes in at over the 90% range.
At Gods Own Concentrates, they have chosen to produce products that are as true to the original cannabis strain profile as possible.
Nous nous efforçons d'utiliser les souches de la plus haute qualité et les plus savoureuses que nous pouvons trouver afin de toujours offrir à nos clients la meilleure expérience de dabbing possible.
En outre, nous ne sommes jamais satisfaits si nous ne fabriquons pas ce qu'il y a de mieux. C'est pourquoi nous continuons à trouver et à utiliser sans cesse de nouvelles méthodes afin d'amener nos produits à de nouveaux niveaux pour nos clients.
À propos du vendeur :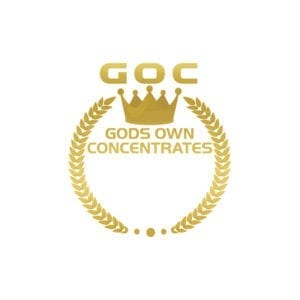 EXTRAITS DE MAUVAISES HERBES INFUSÉS AUX TERPÈNES
Les concentrés Gods Own sont produits par une combinaison de l'extraction BHO et de la distillation fractionnée.
Ils sont convaincus que la combinaison de ces deux méthodes d'extraction est le seul véritable moyen de maintenir les caractéristiques individuelles spécifiques des souches de base utilisées pour fabriquer le concentré, en conservant toutes les notes de goût originales, les profils terpéniques et les highs personnalisés que chaque souche procure. Tout en garantissant un médicament très puissant et efficace.
Le processus des CONCENTRÉS DE DIEU
GOC n'utilise pas d'édulcorants à base de sucre, de sirops ou d'arômes artificiels dans ses produits de shatter infusés aux terpènes.
Gods Own Concentrates n'utilise que des terpènes de souche pour améliorer les profils de terpènes et les notes aromatiques existants.
5 réponses à "Midnite OG Kush Diamonds"
Plus d'informations de GODS OWN CONCENTRATES