About the strain:
GOC Donkey Butter THC Diamonds are some of the most concentrates in the world. Its physical and mental dullness can blunt stress, pain, and the pangs of daily living.
Donkey Butter THC Diamonds are the result of taking de-waxed and filtered BHO and subjecting it to incredibly low temperatures and varying pressure changes to create an environment conducive to the creation and growth of crystals within the BHO base.
There is nothing fast or quick about the process and the longer the crystals are left in this environment the more stable and larger they become.
The Donkey Butter THC Diamonds is whole plant fresh frozen live rosin that is soooo concentrated it then turns into beautiful diamonds. THC-A crystalline is a relative newcomer to the world of cannabis concentrates that boasts incredible potency.
Diamonds are isolated from live resin extracts. After harvesting perfectly mature plants the flowers are frozen and then extracted quickly then pressed immediately and jarred to retain full terpene expression. This process happens multiple times until the extract is so concentrated that it crystallizes into DIAMONDS.
Donkey Butter THC Diamonds Strain Effects
This funky flower leans toward sedation, weighing heavy on the limbs and relaxing the mind. Its physical and mental dullness can blunt stress, pain, and the pangs of daily living.
Donkey Butter has a high that mounts slowly. Several minutes after coughing on its heavy smoke, users begin to feel head-focused sensations like a constricted feeling around the temples or some flushing in the cheeks. Eventually, these unfamiliar tics die down, allowing smokers to become aware of some distinct changes in thinking.
Ideas may move more quickly than usual and may seem to have a new kind of intensity. Similarly, users may begin to make free associations or group their thoughts into categories.
This cerebral edge can help accomplish work on open-ended artistic projects or brainstorming sessions. In the right set and setting, Donkey Butter may even induce trippy sensory distortions like a flattening of visual depth perspective or an uncanny feeling of time dilation. Those who are so inclined can maximize this psychedelic mood by indulging in some moody music or a visually dynamic movie.
Why choose THC Diamonds over other forms of extracts?

a) Full spectrum extracts are a healthier way to get even more medicated.
b) You won't get a more potent dab that these
c) You're getting all of the Terpenes, the THC yield, and the CBD yield, not to mention the rest of the cannabinoidl traces from the full spectrum profile of the mother plant.
Be prepared for a very true-to-strain heavy stone. This is a very special and unique product that must be tried by all Cannabis connoisseurs. You're in for a treat.
And if you'd like some Donkey Butter flower, check it out.
Effects:
Relaxed, Social, Creative
Medical:
Stress, Depression, Insomnia
About the vendor: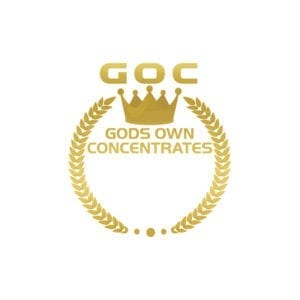 TERPENE INFUSED WEED EXTRACTS
Gods Own Concentrates exotic terpene infused shatter, diamonds, sauce, and vape refills are produced through a combination of both BHO extraction and Fractional Distillation.
They believe that the combination of these two extraction methods is the only true way to maintain the specific individual characteristics of the base strains used to make the concentrate, keeping all of the original flavour notes, terpene profiles and personalized highs each strain provides. While ensuring a very potent and effective medicine.
The GODS OWN CONCENTRATES Process
GOC do not use any sugar based sweeteners, syrups or artificial flavourings in any of their terpene infused shatter products.
Gods Own Concentrates only uses strain based terpenes to enhance the existing terpene profiles and flavour notes.
More from GODS OWN CONCENTRATES