Description
About the strain:
Gods Own Concentrate Gorilla Glue #4 Distillate syringes are convenient, tasty, and very potent. 90% THC in a medical grade dispersement device. This is a full spectrum, high THC product. This product has become very popular as a means of refills your vape cartridges!
How to Use Gorilla Glue #4 Syringe
Smoking oils can be smoked in a pipe, vaporized, rolled in a joint, or hot knifed. A very versatile, potent, and tasty product.
Gorilla Glue #4 Distillate Syringe Specs:
– All natural terps used
– Quantity: 1 gram (Approx. 100 inhalations/dabs)

About the Strain: Gorilla Glue #4
Gorilla Glue #4 (also known as GG4) created by GG strains is a Sativa-dominant hybrid, a multiple award-winning strain, famous for its high THC content. This is the beauty you all know and love. This strain gets its name because of the resin that collects on the scissors when trimming. Gorilla Glue #4 has several parents due to extensive backcrossing – Sour Diesel, Sour Dubb, Chem's Sister, and Chocolate Diesel.
Flower can be found here.
The Process for Cannabis Oil with Strain Specific Effects:

Smoking oils are non-decarboxylated cannabis extracts. Smoking oils are most effective where immediate absorption is needed.
Green Oil is a natural extract very high in chlorophyll.
Cherry Oil is charcoal filtered to remove most chlorophyll.
Gorilla Glue #4 Distillate Syringe is filtered and winterized to remove both chlorophyll and waxes in addition to other plant material leaving us with a very tasty and effective distillate!
Effects:
Relaxed, Happy, Euphoric
Medical:
Stress, Pain, Depression
About the vendor: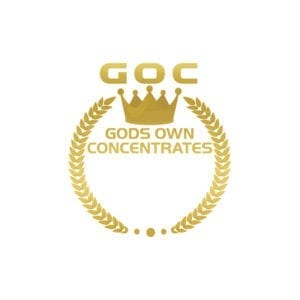 TERPENE INFUSED WEED EXTRACTS
Gods Own Concentrates exotic terpene infused shatter, diamonds, sauce, and vape refills are produced through a combination of both BHO extraction and Fractional Distillation.
They believe that the combination of these two extraction methods is the only true way to maintain the specific individual characteristics of the base strains used to make the concentrate, keeping all of the original flavour notes, terpene profiles and personalized highs each strain provides. While ensuring a very potent and effective medicine.
The GODS OWN CONCENTRATES Process
GOC do not use any sugar based sweeteners, syrups or artificial flavourings in any of their terpene infused shatter products.
Gods Own Concentrates only uses strain based terpenes to enhance the existing terpene profiles and flavour notes.