Sale!
About the strain:
Gods Own Concentrate has come out with a Grape CBD Oil Tincture 1000mg with MCT Oil that is both Organic, Gluten Free, and CGMP.
In the simplest terms, Grape CBD Oil Tincture 1000mg are a medicine made by dissolving an extract in a liquid medium such as Ethanol, Olive, Canola, Grapeseed, and MCT Oils. In this case GOC has used MCT Oil as their base in order to help your body absorb more of the active ingredients.
Tinctures are quickly absorbed under the tongue and can be appropriate for the treatment of many conditions.
1 full dropper is equivalent 15mg of Full Spectrum CBD extract, the appropriate amount for a general health and wellness routine. If you're dealing with pain (depending on the severity) users have experienced that 15-45mg of Full Spectrum CBD extract will be effective. This equals 2-3 droppers daily. Each use case is very unique and different and we recommend you test personally to see what works best for you.
Quantity: 50mL with 1000 mg of Full Spectrum CBD extract
Contains: CBD, CBD-A , steam distilled Terpenes and micro-trace amounts of THC
The cannabinoids work together to make the effects of each one more effective than if consumed on their own. This is known as the entourage effect and for the most part it is much more effective than pure CBD isolate. Much more.
Made in Canada, Kosher Certified, Organic Certified, Made in a CGMP facility – Current Good Manufacturing Practices*. All products produced within a CGMP facility meet all current Health Canada safety, quality and contamination avoidance guidelines.
How to use the God's Own Concentrate Full-Spectrum CBD Tincture:
1. Drop 1mL (a full dropper) or as you see fit right under your tongue and let it sit there for 30-60 second before swallowing
2. For a tastier option, you can add it to your morning smoothies, juice, or even salad dressing.
Possible health benefits of Full Spectrum CBD tinctures:
1. CBD is antibacterial
2. CBD reduces inflammation
3. CBD promoted bone growth
4. CBD relieves anxiety
5. CBD suppresses muscle spasms
6. CBD reduces seizures
7. CBD inhibits cancer cell growrth
Ingredients: Full spectrum CBD, MCT OIL, Natural flavouring, steam distilled Terpenes*
About the vendor: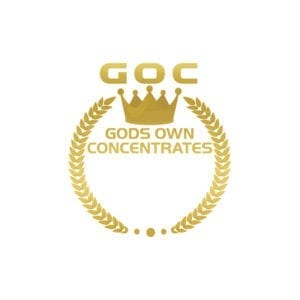 TERPENE INFUSED WEED EXTRACTS
Gods Own Concentrates exotic terpene infused shatter, diamonds, sauce, and vape refills are produced through a combination of both BHO extraction and Fractional Distillation.
They believe that the combination of these two extraction methods is the only true way to maintain the specific individual characteristics of the base strains used to make the concentrate, keeping all of the original flavour notes, terpene profiles and personalized highs each strain provides. While ensuring a very potent and effective medicine.
The GODS OWN CONCENTRATES Process
GOC do not use any sugar based sweeteners, syrups or artificial flavourings in any of their terpene infused shatter products.
Gods Own Concentrates only uses strain based terpenes to enhance the existing terpene profiles and flavour notes.
More from GODS OWN CONCENTRATES