Description
About the strain:
GOC Strawbery Kush Diamonds are some of the strongest extracts available on planet Earth. THC is 90%. If you are dabber, these diamonds are the next level on potency and flavour.
Strawberry Kush Diamonds are the result of taking de-waxed and filtered BHO and subjecting it to incredibly low temperatures and varying pressure changes to create an environment conducive to the creation and growth of crystals within the BHO base.
There is nothing fast or quick about the process and the longer the crystals are left in this environment the more stable and larger they become.
The reason Diamonds are more expensive is the amount of time and patience required to complete a single productions run. This can take weeks and in some cases months to complete as well as the curing period after full crystallization has been achieved. The finished product is definitely worth the wait though.
A potent strain for novice consumers, it's a sleepy strain that produces a calming heavy body sensation.
The experience starts with tingles immediately rushing up and down your face and head while your whole body relaxes and feels relief. It is a wonderfully pleasant body high. Feels soft because it's not too intense but it does what it is supposed to do. Sit back and absorb! All users whether experienced or novice will enjoy this lady.
Effects: Happy, Relaxed, Euphoric
Medical: Stress, Pain, Anxiety
THC: 90%
CBD: 0.386%
THC and CBD percentages:
All of the parent cannabis used to create GOC diamonds tests at an average of 25.5-26% THC and 0.386% CBD.
GOC Strawberry Kush diamonds THC %'s comes in at over the 90% range.
At Gods Own Concentrates, they have chosen to produce products that are as true to the original cannabis strain profile as possible.
We strive to use the highest quality and most flavorful strains we can source to always provide our customers with the best dabbing experience possible.
In addition, we are never satisfied unless we are making the best and so we continue to find and use new methods endlessly to always take our products to new levels for our customers.
About the vendor: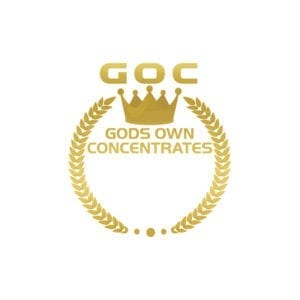 TERPENE INFUSED WEED EXTRACTS
Gods Own Concentrates exotic terpene infused shatter, diamonds, sauce, and vape refills are produced through a combination of both BHO extraction and Fractional Distillation.
They believe that the combination of these two extraction methods is the only true way to maintain the specific individual characteristics of the base strains used to make the concentrate, keeping all of the original flavour notes, terpene profiles and personalized highs each strain provides. While ensuring a very potent and effective medicine.
The GODS OWN CONCENTRATES Process
GOC do not use any sugar based sweeteners, syrups or artificial flavourings in any of their terpene infused shatter products.
Gods Own Concentrates only uses strain based terpenes to enhance the existing terpene profiles and flavour notes.