Sale!
About the strain:
Strawberry Kush Vape Refill is a brand new refill by GOC. Requested by us due to high demand by you! Enjoy this tasty potent treat.
The GOC Strawberry Kush Vape Refill uses BHO extraction so they are a stronger product.
Also, instead of propylene glycol and vegetable glycerin, denatured terpenes are used with artificial flavours to make a really tasty product.
Pair with the South Coast Variable Battery for best results.
Strawberry Kush vape refill strain information:
A potent strain for novice consumers, it's a sleepy strain that produces a calming heavy body sensation.
The experience starts with tingles immediately rushing up and down your face and head while your whole body relaxes and feels relief. It is a wonderfully pleasant body high. Feels soft because it's not too intense but it does what it is supposed to do. Sit back and absorb! All users whether experienced or novice will enjoy this lady.
Effects:
Happy, Relaxed, Euphoric
Medical:
Stress, Pain, Anxiety
About the vendor: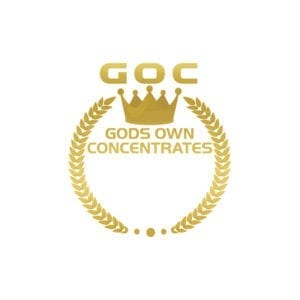 TERPENE INFUSED WEED EXTRACTS
Gods Own Concentrates exotic terpene infused shatter, diamonds, sauce, and vape refills are produced through a combination of both BHO extraction and Fractional Distillation.
They believe that the combination of these two extraction methods is the only true way to maintain the specific individual characteristics of the base strains used to make the concentrate, keeping all of the original flavour notes, terpene profiles and personalized highs each strain provides. While ensuring a very potent and effective medicine.
The GODS OWN CONCENTRATES Process
GOC do not use any sugar based sweeteners, syrups or artificial flavourings in any of their terpene infused shatter products.
Gods Own Concentrates only uses strain based terpenes to enhance the existing terpene profiles and flavour notes.
8 Responses to "Strawberry Kush Vape Refill"
More from GODS OWN CONCENTRATES