Sale!
About the strain:
Discreet. Distinct. High quality. The GOC ACDC vape refill uses both BHO and fractional distillation to enhance potency and flavour. This is a THC distillate refill with the ACDC terp profile.
The Gods Own Concentrate ACDC vape refill is made with food grade materials only. Source products used for extraction are grown in a GMP and GPP environment without the use of pesticides and free of heavy metals:
– Made from premium THC distillate
– Live cannabis plant terpenes extracted and formulated for superior flavour and product
– Products are processed, packaged and handled in a Good Production and Good Manufacturing Practices standard facility
– All products are made using only food grade formulations
– Source products used for extraction grown without the use of pesticides and free of heavy metals
– All products are laboratory analysed to ensure potency and consistency.
About the ACDC Strain
ACDC is a CBD-dominant strain made from a phenotype of Cannatonic. BUT this refill is high THC with the ACDC terp profile so that you still get the terp medicinal effects and the THC medicinal effects. This strain produces little to no intoxicating effects. Medical marijuana patients choose ACDC to help treat various ailments like pain, anxiety, epilepsy and the negative effects of chemotherapy.
About the Extract
GOC artificial refills are BHO instead of C02 extraction so they are a stronger product. Also, instead of propylene glycol and vegetable glycerin, denatured terpenes are used with artificial flavours to make a really tasty product.
Pair with the South Coast Variable Battery for best results.
Effects:
Euphoria, Focus, Creativity
Medical:
Pain, Stress, Anxiety
About the vendor: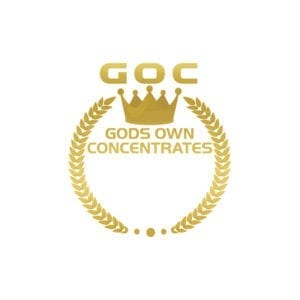 TERPENE INFUSED WEED EXTRACTS
Gods Own Concentrates exotic terpene infused shatter, diamonds, sauce, and vape refills are produced through a combination of both BHO extraction and Fractional Distillation.
They believe that the combination of these two extraction methods is the only true way to maintain the specific individual characteristics of the base strains used to make the concentrate, keeping all of the original flavour notes, terpene profiles and personalized highs each strain provides. While ensuring a very potent and effective medicine.
The GODS OWN CONCENTRATES Process
GOC do not use any sugar based sweeteners, syrups or artificial flavourings in any of their terpene infused shatter products.
Gods Own Concentrates only uses strain based terpenes to enhance the existing terpene profiles and flavour notes.
2 Responses to "ACDC Vape Refill"
More from GODS OWN CONCENTRATES