About the strain:
Elevate your vaping experience with our GOC 1g Distillate Granddaddy Purple Vape Refill. Expertly crafted for the discerning user, this cartridge promises unparalleled purity, potency, and flavour.
Indulge in a vaping journey that stands out. Our premium GOC 1g Distillate Granddaddy Purple Vape Refill promises an experience that's smooth, flavorful, and truly exceptional. Whether you're a seasoned vaper or new to the scene, this cartridge is your ticket to exploring richer dimensions of relaxation and revitalization.
Granddaddy Purple Strain Info:
Granddaddy Purple is an indica marijuana strain that goes by many different names, including "Grand Daddy Purp," "Granddaddy Purps," "GDP," and "Grandaddy Purple Kush." Popularized in 2003 by Ken Estes, Granddaddy Purple (or GDP) is a famous indica cross of Mendo Purps, Skunk, and Afghanistan. This California staple inherits a complex grape and berry aroma from its Mendo Purps and Afghanistan parent, while Skunk passes on its oversized, compact bud structure.
Its potent effects are clearly detectable in both mind and body, delivering a fusion of cerebral euphoria and physical relaxation. While your thoughts may float in a dreamy buzz, your body is more likely to find itself fixed in one spot for the duration of GDP's effects. Granddaddy Purple is typically pulled off the shelf for consumers looking to combat pain, stress, insomnia, appetite loss, and muscle spasms.
Premium GOC 1g Distillate Granddaddy Purple Vape Refill Product Overview:
Elevate your vaping experience with our Premium 1g Distillate Vape Pen Cartridge. Expertly crafted for the discerning user, this cartridge promises unparalleled purity, potency, and flavor.
GOC 1g Distillate Vape Refill Features:
Purity Perfected: Distilled to perfection, our process ensures a 99% pure, solvent-free product, delivering a clean and uncompromised experience.
Rich Potency: With a high concentration of active cannabinoids, every draw promises consistent strength and effect, ensuring you get the most out of your vaping session.
Terpene-Infused: Natural terpenes reintroduced post-distillation enhance flavor and effect, crafting a harmonious blend of taste and sensation.
Leak-Proof Design: Say goodbye to messy spills. Our cartridge employs a state-of-the-art design to ensure zero leakage and optimal performance.
Universal Compatibility: Our 510-threaded cartridge is designed to fit most vape pen batteries, ensuring a seamless experience for users.
Effects:
Relaxed, Sleepy, Happy
Medical:
Stress, Pain, Insomnia
About the vendor: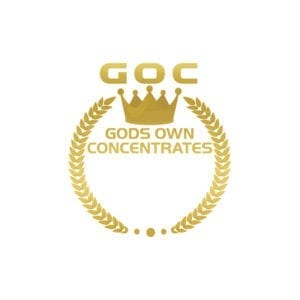 TERPENE INFUSED WEED EXTRACTS
Gods Own Concentrates exotic terpene infused shatter, diamonds, sauce, and vape refills are produced through a combination of both BHO extraction and Fractional Distillation.
They believe that the combination of these two extraction methods is the only true way to maintain the specific individual characteristics of the base strains used to make the concentrate, keeping all of the original flavour notes, terpene profiles and personalized highs each strain provides. While ensuring a very potent and effective medicine.
The GODS OWN CONCENTRATES Process
GOC do not use any sugar based sweeteners, syrups or artificial flavourings in any of their terpene infused shatter products.
Gods Own Concentrates only uses strain based terpenes to enhance the existing terpene profiles and flavour notes.
20 responses to "Granddaddy Purple Vape Refill"
More from GODS OWN CONCENTRATES