About the strain:
Sour Diesel 1:1 (THC:CBD) Vape Refill provides what most consider the Golden Ratio of CBD to THC. Maximum pain relief plus relaxation without maximum psychoactive effects.
Sour Diesel 1:1 (THC:CBD) Vape Refill provides the magical 1:1 ratio. Some refer to it as "canna magic"!
Why? Well, because of the effects that a 1:1 ratio lend. A ratio of equal parts CBD to THC (1:1) is considered highly effective for pain relief, anxiety, spasticity, fibromyalgia, insomnia, nausea and appetite stimulation. This ratio shows promise in relieving symptoms associated with Multiple Sclerosis and may be able to kill certain cancer cells and inhibit tumor growth.  A 1:1 can be a good starting point for many due to the multitude of conditions it may treat with minimal impairment.
If you are suffering from an illness or other health problem that has you writhing in pain or completely sleepless, it's highly likely that 1 microdose puff of the Blueberry 1:1 (THC:CBD) Vape Refill will ease your discomfort and have you sleeping, sleepy or simply slightly sedated enough to get out of your head about the pain and sickness you're experiencing.
Sour Diesel 1:1 (THC:CBD) Vape Refill
Proprietary strain-specific Terpene mix: 200mg (this is what gets you the flavour and strain-specific effects. If not, you'd just have straight CBD and THC and no full profile effects)
Quantity: 1 gram (Approx. 180 inhalations.)
Checkout the other 2 strain options here: Blueberry and Gorilla Glue #4.
Sour Diesel strain information:
This fast-acting strain delivers energizing, dreamy cerebral effects that have pushed Sour Diesel to its legendary status.
About the Extract
GOC artificial refills are BHO instead of C02 extraction so they are a stronger product. Also, instead of propylene glycol and vegetable glycerin, denatured terpenes are used with artificial flavours to make a really tasty product.
Pair with the South Coast Variable Battery for best results.
Effects:
Focus, Happy, Calm
Medical:
Stress, Pain, Insomnia, Depression
About the vendor: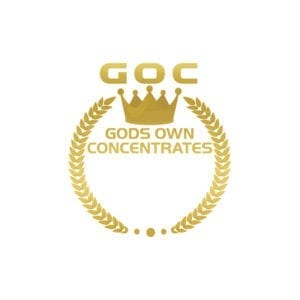 TERPENE INFUSED WEED EXTRACTS
Gods Own Concentrates exotic terpene infused shatter, diamonds, sauce, and vape refills are produced through a combination of both BHO extraction and Fractional Distillation.
They believe that the combination of these two extraction methods is the only true way to maintain the specific individual characteristics of the base strains used to make the concentrate, keeping all of the original flavour notes, terpene profiles and personalized highs each strain provides. While ensuring a very potent and effective medicine.
The GODS OWN CONCENTRATES Process
GOC do not use any sugar based sweeteners, syrups or artificial flavourings in any of their terpene infused shatter products.
Gods Own Concentrates only uses strain based terpenes to enhance the existing terpene profiles and flavour notes.
More from GODS OWN CONCENTRATES