Sale!
About the strain:
Sour Diesel Delta 8 THC Vape Refill is a special type of THC that gets you high but doesn't leave you stuck in the couch, feeling over-tired the next day, AND no anxiety at all.
Sour Diesel Delta 8 THC Vape refill is the next level of vaping because you can get many of the effects of THC without getting totally blasted. Also, there are very few reported "day after" effects. That means NO BURNOUT.
You might be asking yourself, How is this possible? It's really simple, THC splits into to 2 parts: Delta 8 and Delta 9. Delta 8 is the calm and chill without the couch glue and fear. Delta 9 is all the things at the same time – standard weed effects.
So with Delta 8 THC you get high without any paranoia but you still get all the fun stuff like feeling hella relaxed, pain relief, help with insomnia plus a couple bonuses like an increase in memory and recall. You probably weren't expecting that last one since we are talking about THC which typically makes you forgetful but not with Delta 8 THC.
The fact is most weed only has .01 % delta 8 so there aren't any strains (that we know of) that have a high amount of delta 8. Most THC found in flower is delta 9. However, if you did go to a science class or two you would be able to pull apart standard THC into delta 8 and delta 9 and you could create a substance of pure delta 8.
That's what GOC has done with this Sour Diesel Delta 8 THC Vape refill and it's glorious: ALL CHILL and NO BURNOUT.
We currently have 2 other Delta 8 THC options: Lemon Haze and Blue Dream
Sour Diesel Delta 8 THC Vape Refill
(Approx. 180 inhalations.)

Find the other Delta-8 strain options here: Lemon Haze and Blue Dream.
Sour Diesel strain information:
With all the effects being positive it's the ideal medicine for depression, lack of appetite and pain.
About the Extract
GOC artificial refills are BHO instead of C02 extraction so they are a stronger product. Also, instead of propylene glycol and vegetable glycerin, denatured terpenes are used with artificial flavours to make a really tasty product.
Pair with the South Coast Variable Battery for best results.
Effects:
Happy, Uplifted, Euphoric
Medical:
Stress, Depression, Pain
About the vendor: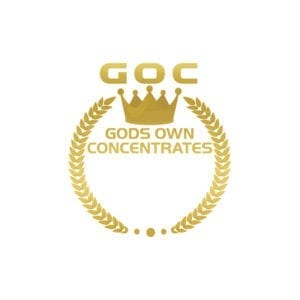 TERPENE INFUSED WEED EXTRACTS
Gods Own Concentrates exotic terpene infused shatter, diamonds, sauce, and vape refills are produced through a combination of both BHO extraction and Fractional Distillation.
They believe that the combination of these two extraction methods is the only true way to maintain the specific individual characteristics of the base strains used to make the concentrate, keeping all of the original flavour notes, terpene profiles and personalized highs each strain provides. While ensuring a very potent and effective medicine.
The GODS OWN CONCENTRATES Process
GOC do not use any sugar based sweeteners, syrups or artificial flavourings in any of their terpene infused shatter products.
Gods Own Concentrates only uses strain based terpenes to enhance the existing terpene profiles and flavour notes.
9 Responses to "Sour Diesel Delta 8 THC Vape Refill"
More from GODS OWN CONCENTRATES