About the strain:
Blue Dream is a slightly sativa dominant hybrid (60% sativa/40% indica) strain that is a potent cross between the hugely popular Blueberry X Haze strains. The Gods Own Concentrate Blue Dream THC Distillate syringe is a concentrated version of the parent strain.
The Blue Dream THC Distillate comes in a 1ml/1g high quality glass syringe designed for maximum flavour retention, non-degrading (unlike plastic syringes) and can be warmed up for maximum product removal! Please do heat it up with your hands or a blow-dryer to avoid any uncomfortable squeezes.
THC Distillate syringes have quickly become one of the most popular ways to enjoy high potency extracts. THC Distillate is a form of cannabis extract. The distillation process removes unwanted plant waxes, fats, and chlorophyll from the cannabinoids and terpenes to make a pure concentrated resin with a high THC content.
Distillates are considered to be "solvent-free." The extracted THC is re-infused into the concentrate to create a completely pure product.
**This product has become very popular as a means to refill for your vape cartridge, to make edibles, to be an edible and to DAB or dip your joints to make infused pre rolls.
About the Strain: Blue Dream
This infamous bud boasts a moderately high THC level that ranges from 17-24% on average and a myriad of both indica and sativa effects. Users describe the Blue Dream high as having an immediate onset of an uplifting cerebral head high that leaves you completely motivated and focused with waves of creative energy that hit quickly and hard.
This is accompanied by a mellow relaxing body high that leaves you warmed, numb, and completely pain free. Due to these potent combination effects, Blue Dream is said to be an ideal strain for treating patients suffering from conditions such as chronic stress, chronic pain due to injury or illness, mild to moderate cases of depression, and sleep disorders, including insomnia.
Blue Dream has a delicious aroma of sweet blueberry pie and a taste of sugary sweet blueberries that stays on your tongue long after smoking.
Effects:
Creative, Energizing, Euphoria, Happy
Medical:
ADD/ADHD, Anxiety, Autism, Bipolar Disorder, Chronic Pain, Depression, Headaches, Inflammation, Nausea, PTSD, Stress
About the vendor: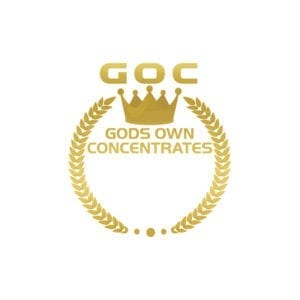 TERPENE INFUSED WEED EXTRACTS
Gods Own Concentrates exotic terpene infused shatter, diamonds, sauce, and vape refills are produced through a combination of both BHO extraction and Fractional Distillation.
They believe that the combination of these two extraction methods is the only true way to maintain the specific individual characteristics of the base strains used to make the concentrate, keeping all of the original flavour notes, terpene profiles and personalized highs each strain provides. While ensuring a very potent and effective medicine.
The GODS OWN CONCENTRATES Process
GOC do not use any sugar based sweeteners, syrups or artificial flavourings in any of their terpene infused shatter products.
Gods Own Concentrates only uses strain based terpenes to enhance the existing terpene profiles and flavour notes.
One response to "Blue Dream THC Distillate Syringe"
More from GODS OWN CONCENTRATES